Stormy Romance
What if a Star Wars stormtrooper was hopelessly smitten with Storm of the X-Men during her mohawk phase?
You gotta love the 80's.
Stormtroopers: the Empire's finest.
Origin
Teaming up Storm and a Stormtrooper is so natural. This one was extra fun, since this version of Storm appeared shortly after the last of the original Star Wars movies was released.
Setup
The setup for this photo was pretty typical for me.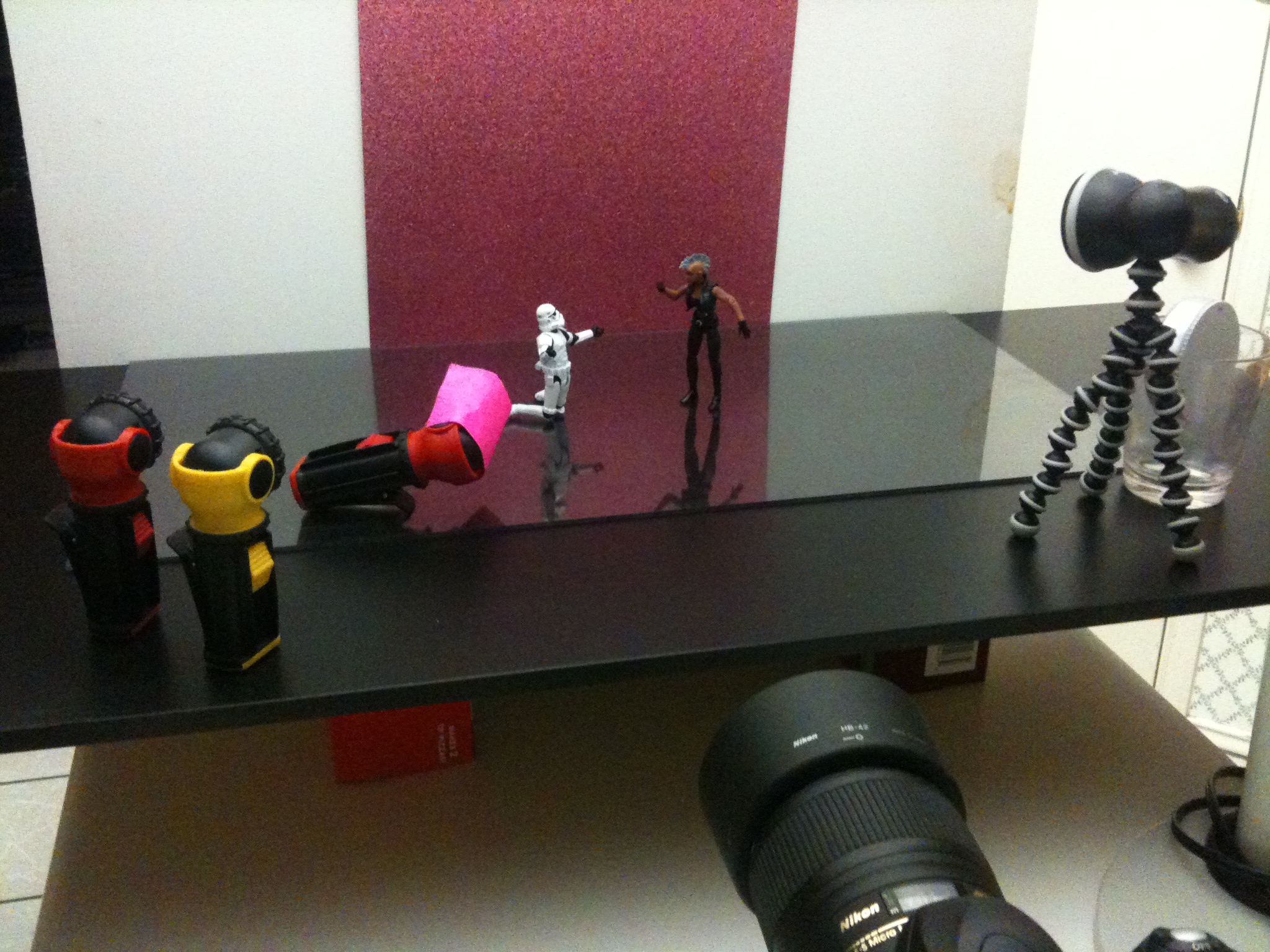 The backdrop is a 12×12 inch square sheet of glitter paper. The figures are standing on a sheet of clear acrylic on top of a dark shelf.
The stormtrooper is backlit with a single incandescent flashlight using a red filter and a sticky note to block the light from hitting him. Storm is backlit with a powerful LED on a tripod and a push-LED in a clear plastic cup. Both figures are front lit with two upright flashlights.
Alternates
This alternate was one of the first photos I took in this session. However, after seeing the sparkles behind her I realized I could emphasize her emotional state by suggesting she is using her electrical powers, and so I adjusted the backlighting to do just that.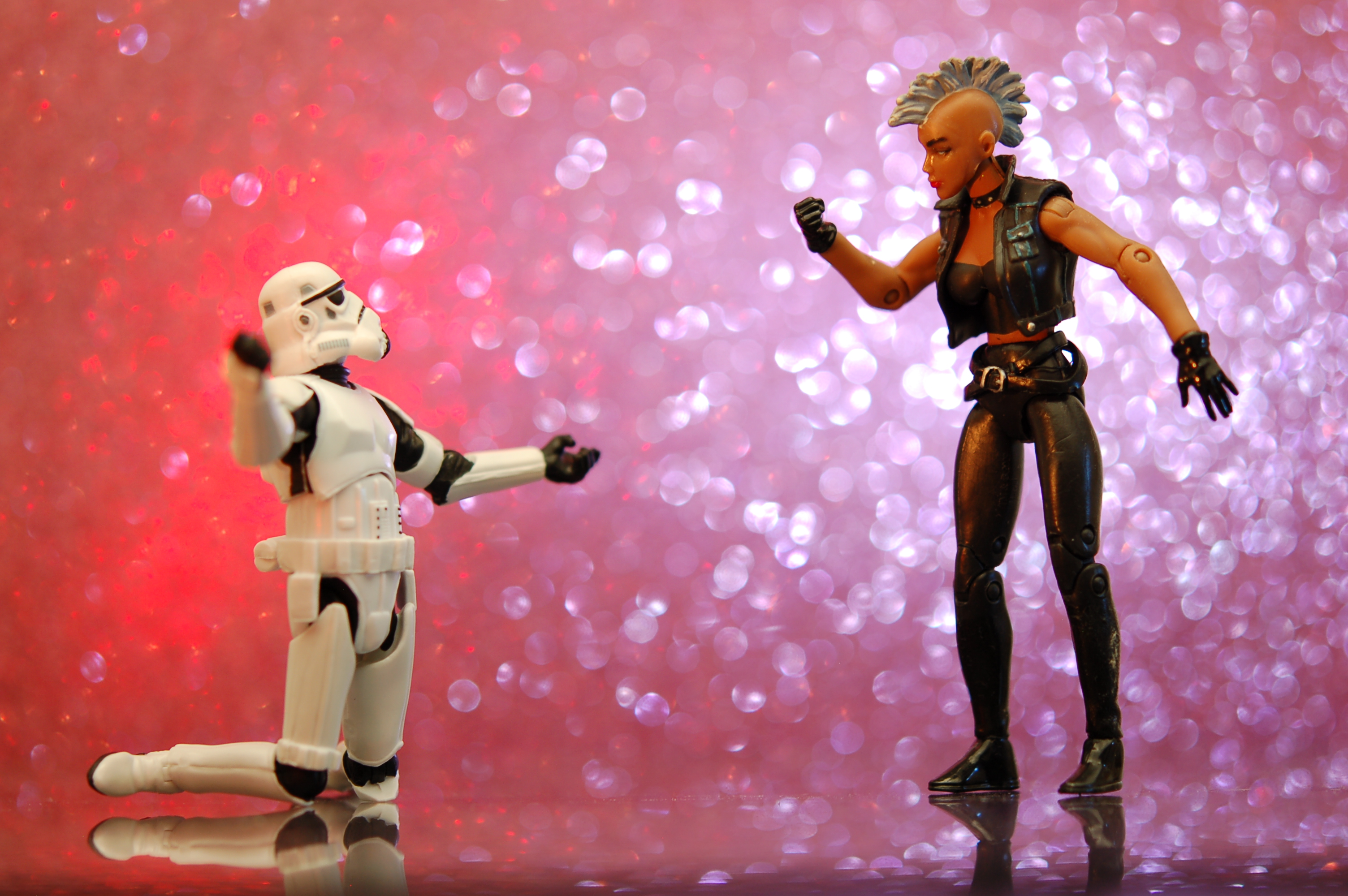 I also did an Instagrammed version.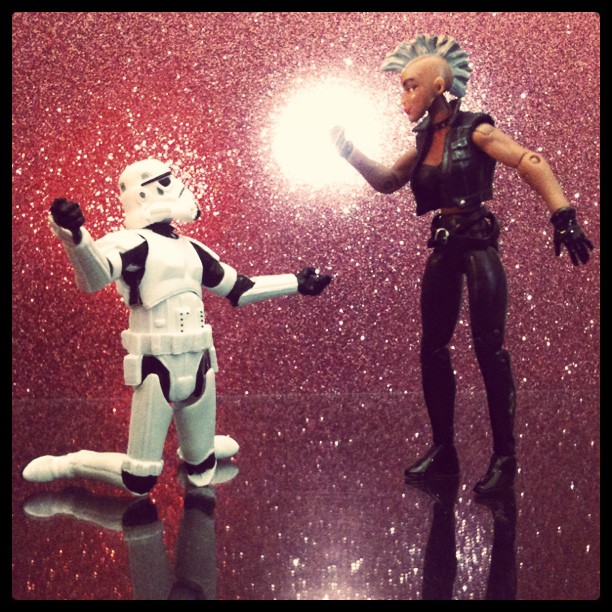 Elsewhere
Storm and the stormtrooper have also been seen together in these places:
Have you seen this photo somewhere else? Or are you using it yourself? I would love to hear from you! It's always fun to learn where my photos turn up.
Flickr Facts
This photo was posted to Flickr on 18 August 2011. The last time I checked, it had 15,429 views on Flickr.
The media type of this image is "photo." The original file type was "jpg." The photo's dimensions are 1024 x 681, giving it landscape orientation.
Unless otherwise noted, the image was created by me, JD Hancock.
Contents
Selected imagery background information.
Stormtroopers
The stormtrooper is the elite soldier of the Imperial forces in the Star Wars universe. They typically wear white armor and helmets and are armed with blasters. Imperial stormtroopers were first depicted in the film Star Wars (1977). As shown in the Star Wars prequels Star Wars Episode II: Attack of the Clones (2002) and Star Wars Episode III: Revenge of the Sith (2005), the stormtroopers were preceeded by the clone troopers, an army of soldiers cloned from the bounty hunter Jango Fett and loyal to Emperor Palpatine. In many ways stormtroopers are an iconic symbol of the Galactic Empire.