Do You Remember … The Future?
Posted to Flickr on 18 August 2013.
"You built a time machine DeLorean … out of Lego bricks?"
I am so pleased that Lego worked with Universal Studios to produce this toy. Back to the Future is my favorite movie of all time, and my daughter and I had a blast assembling this DeLorean time machine.
If I'm not mistaken, I have never posted a photo of my own Lego toys. It is appropriate that this one is my first.
Origin
This photo was inspired by the film Back to the Future and countless years of playing with Lego bricks.
Setup
The setup for this photo was a bit challenging.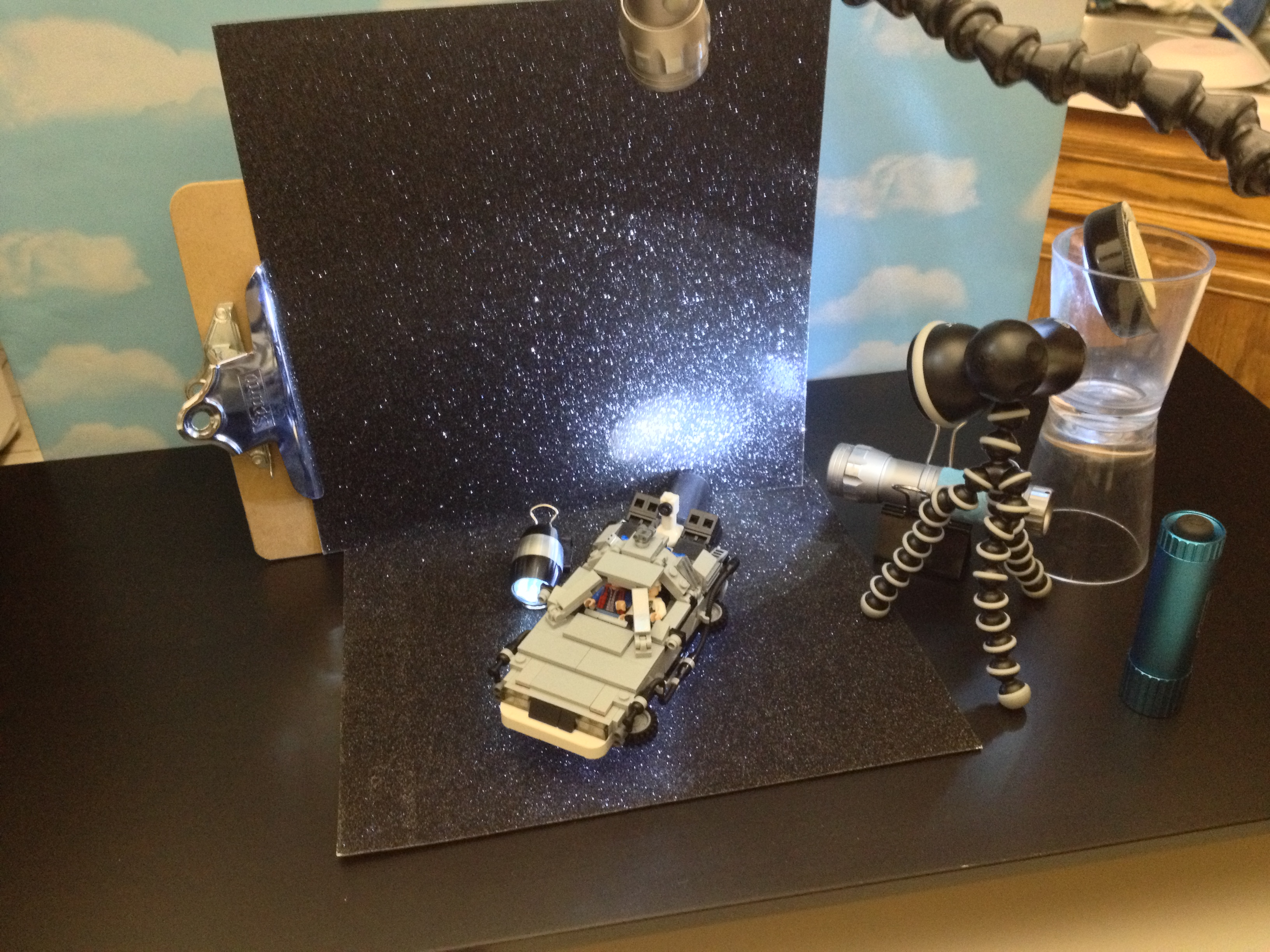 The backdrop and "floor" are one foot square sheets of black glitter paper which are resting on a black shelf I often use for tabletop photography. The DeLorean time machine is balanced on some clear Lego bricks that came with the set, but I had to position them carefully to be out of sight and yet still hold up the vehicle, which I can assure you fell over many, many times during the shoot.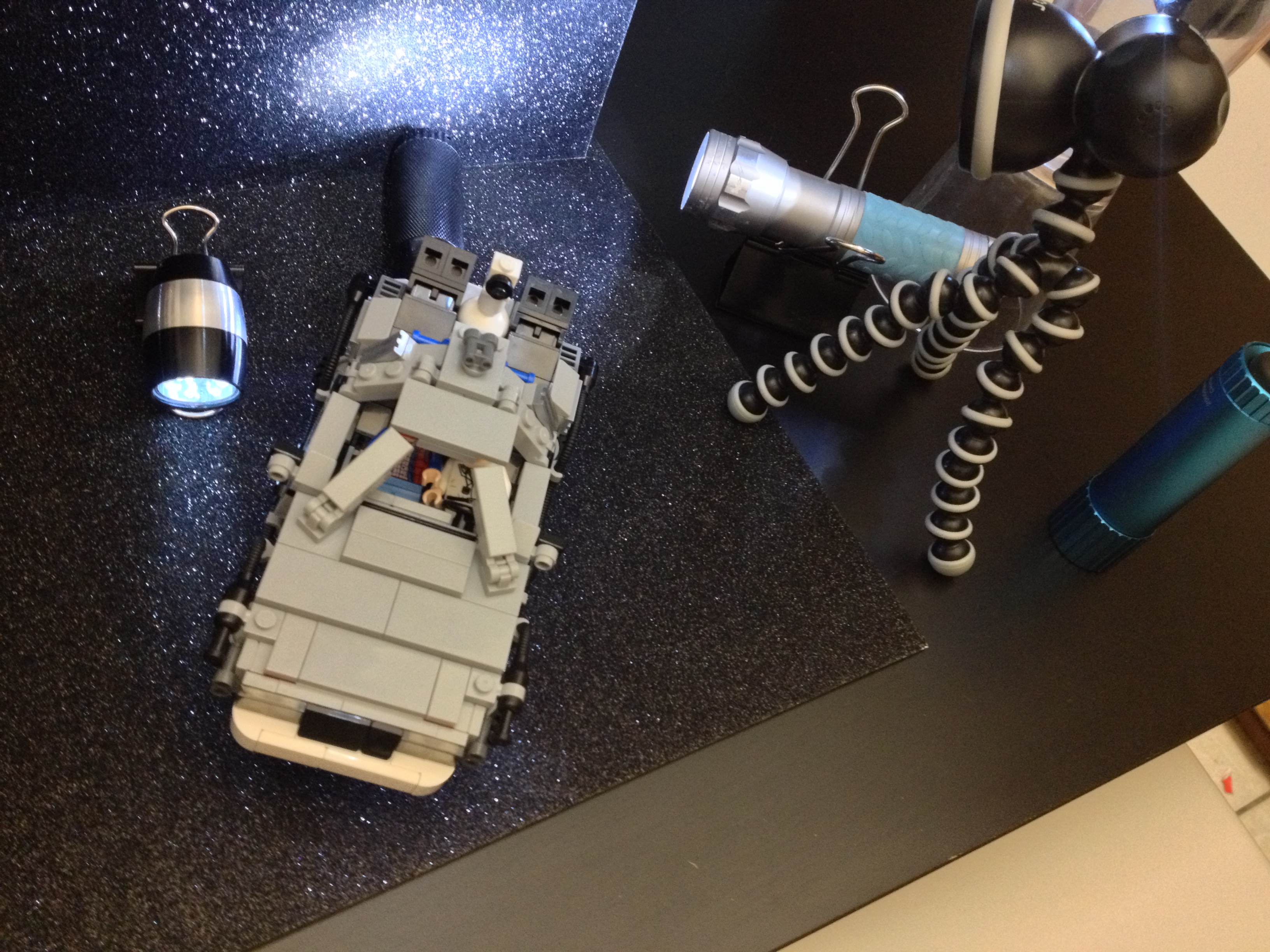 I used various small flashlights, mostly LED, to create light behind and below the car. I used clear plastic cups and binder clips as bases for the lights.
Above the scene but not shown is a large circular diffuser softening the ambient light in the room.
Alternate
I also did an Instagrammed version for giggles.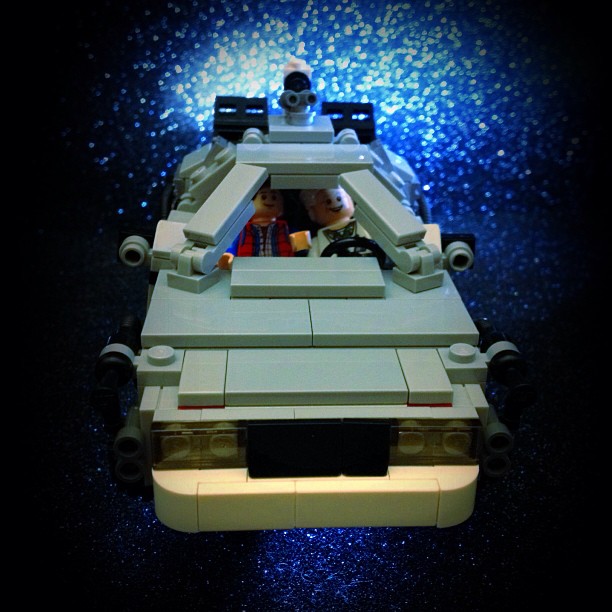 Elsewhere
The Doc and Marty have also been seen flying the DeLorean into these places as well:
Have you seen this photo somewhere else? Or are you using it yourself? I would love to hear from you! It's always fun to learn where my photos turn up.
Flickr Facts
This photo was posted to Flickr on 18 August 2013. The last time I checked, it had 45,948 views on Flickr.
The media type of this image is "photo." The original file type was "jpg." The photo's dimensions are 1024 x 681, giving it landscape orientation.
Unless otherwise noted, the image was created by me, JD Hancock.