Army Doctor
Having had no luck with Lucy van Pelt, Charlie Brown searches for a new counselor … and meets Doctor Octopus.
See the complete The Doctor Is In series.
Photo seen in Flickr Explore.
Origin
This photo is the sixth one of my The Doctor Is In series. I love putting Charlie Brown in weird situations.
Setup
The setup for this photo was pretty straight-forward, especially since I've taken several similar photos.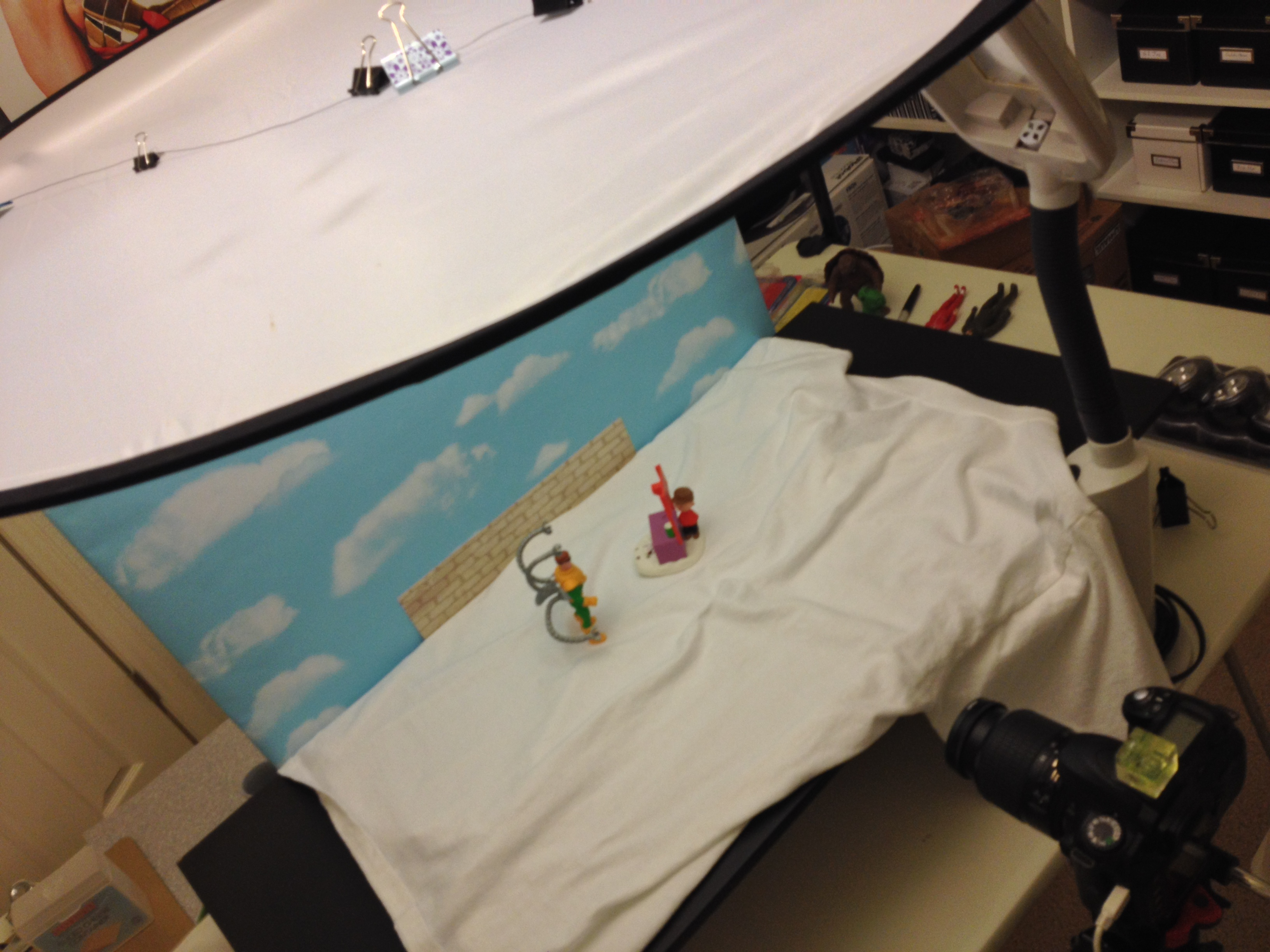 The backdrop is a sheet of foam core wrapped with wrapping paper that shows clouds on a blue sky. A white shirt is draped over the elevated black shelf that I often use for tabletop photography. Above the scene is a large circular diffuser that softens the ambient light in the room.
The Doctor Octopus figure is a McDonald's Happy Meal toy that I picked up on eBay. For what it is, the figure is not a bad little toy. His mechanical arms can be moved in a limited fashion.
Of course Charlie Brown is part of a 2010 Hallmark Christmas ornament with Lucy van Pelt removed.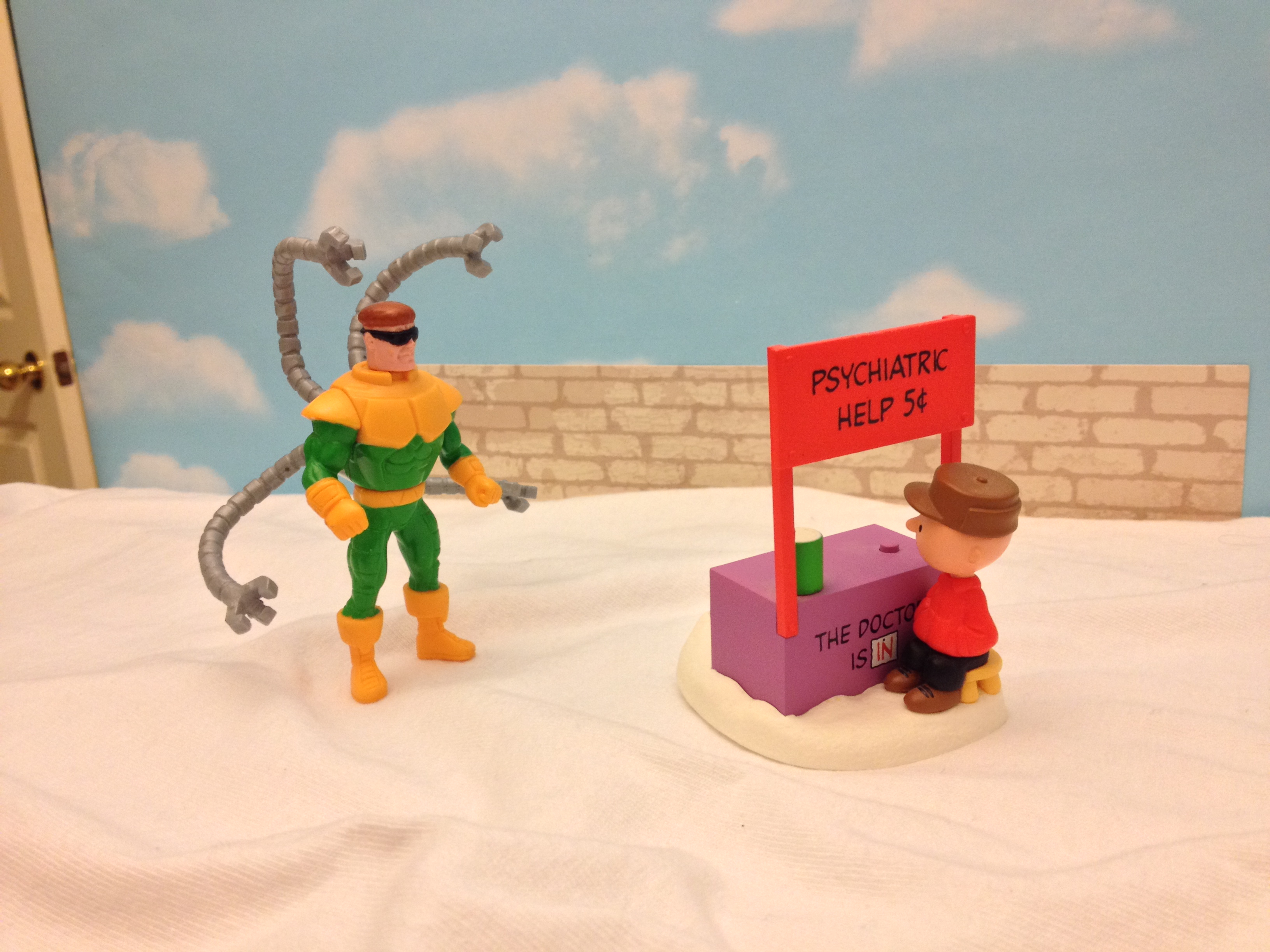 The figures are positioned opposite each other. I put wrinkles in the shirt to give the "snow" some texture and to cover the holes in the base of the ornament where Lucy should be standing.
The "brick wall" is the top of a 12x12 inch sheet of scrapbooking paper. The rest of the paper is curled under the elevated black shelf.
Alternate
I had originally thought it might be fun to have Doctor Octopus be more menacing toward Charlie Brown, but I like the two of them staring somewhat awkwardly at each other better.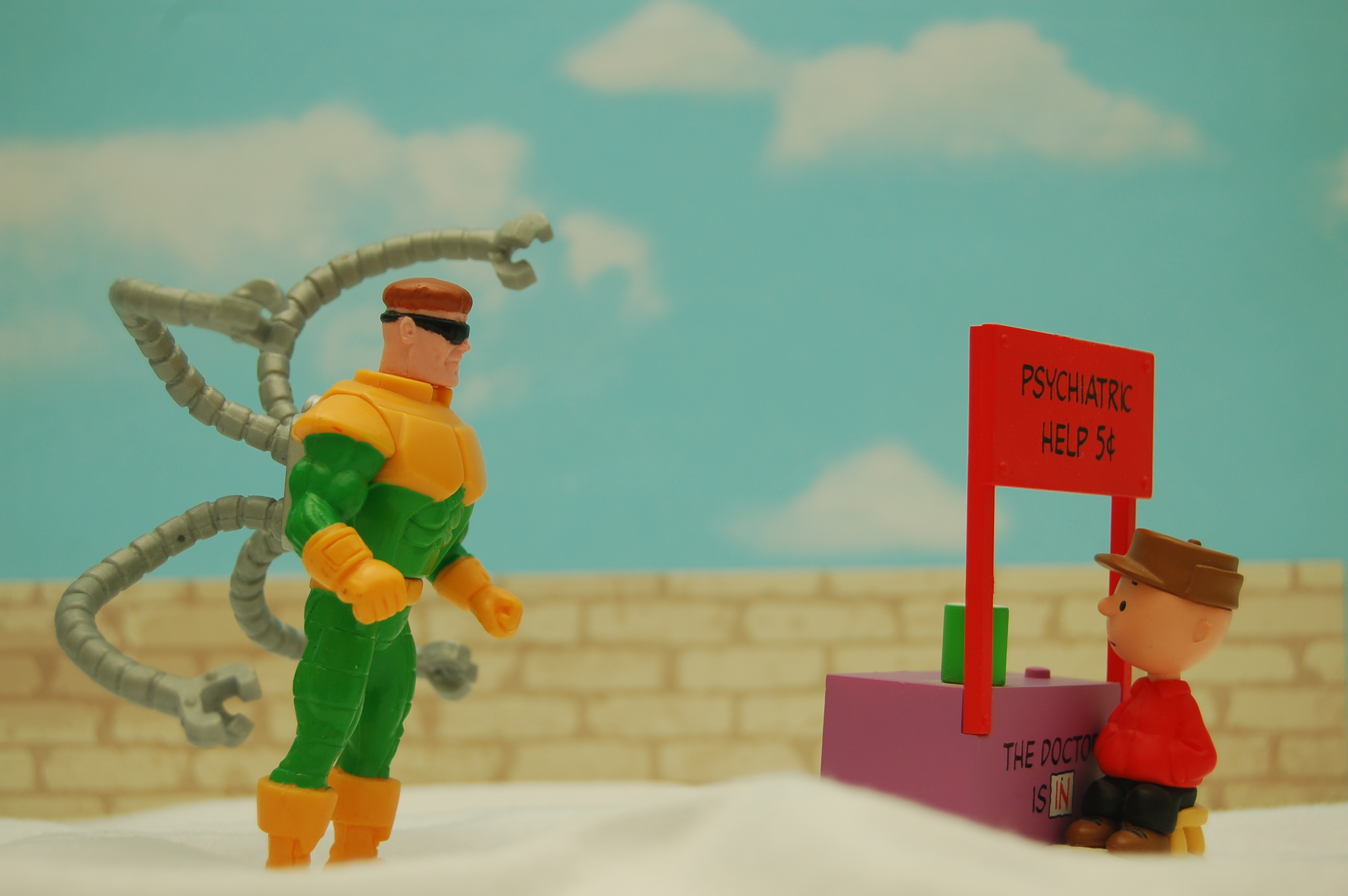 Elsewhere
Doctor Octopus has also been treating Charlie Brown here:
Have you seen this photo somewhere else? Or are you using it yourself? I would love to hear from you! It's always fun to learn where my photos turn up.
Flickr Facts
This photo was posted to Flickr on 03 May 2014. It was one of 500 images featured on Flickr Explore for that day. The last time I checked, it had 60,635 views on Flickr.
The media type of this image is "photo." The original file type was "jpg." The photo's dimensions are 1024 x 681, giving it landscape orientation.
Unless otherwise noted, the image was created by me, JD Hancock.