Panning Out
Posted to Flickr on 22 July 2013.
Close-up of a 1:12 scale pan with gold. The pan is one inch in diameter.
Photo submitted to the Flickr group Macro Mondays for the "Yellow" theme.
This photo was another bokeh experiment. The friendly people at www.horaczko.com were nice enough to send me some of their bokeh filters to play with. If you look closely, you can see the bokeh is in the shape of stylized dollar signs.
Origin
This photo was inspired by the "Yellow" theme of the Flickr group Macro Mondays.
Setup
The setup for this photo was interesting.
The backdrop is a 12x12 inch sheet of gold glitter paper designed for scrapbooking. In front of this backdrop I positioned a 3 3/4 inch (headless) action figure holding the pan of gold. He is held in place with a clothespin, which is held in place by "third hand" alligator clip mounted on a weighted base (and not visible in the setup photo).
I positioned two light sources into the scene. The first light source is a cheap black incandescent flashlight with red trim resting on a stack of sticky notes and aimed at the glitter behind the pan. The second light source is a cheap incandescent flashlight with blue trim mounted on the end of a flexible arm with clamps and aimed at the pan of gold.
Above the scene (and not pictured here) is a large circular diffuser, diffusing the ambient light in the room.
Also not visible in the photo is the bokeh filter used in this photo. The bokeh filter is mounted onto the front of my macro lens. It is in the shape of a stylized dollar sign.
Alternate
Initially I thought I would center the pan, but I ultimately decided I liked it off-center.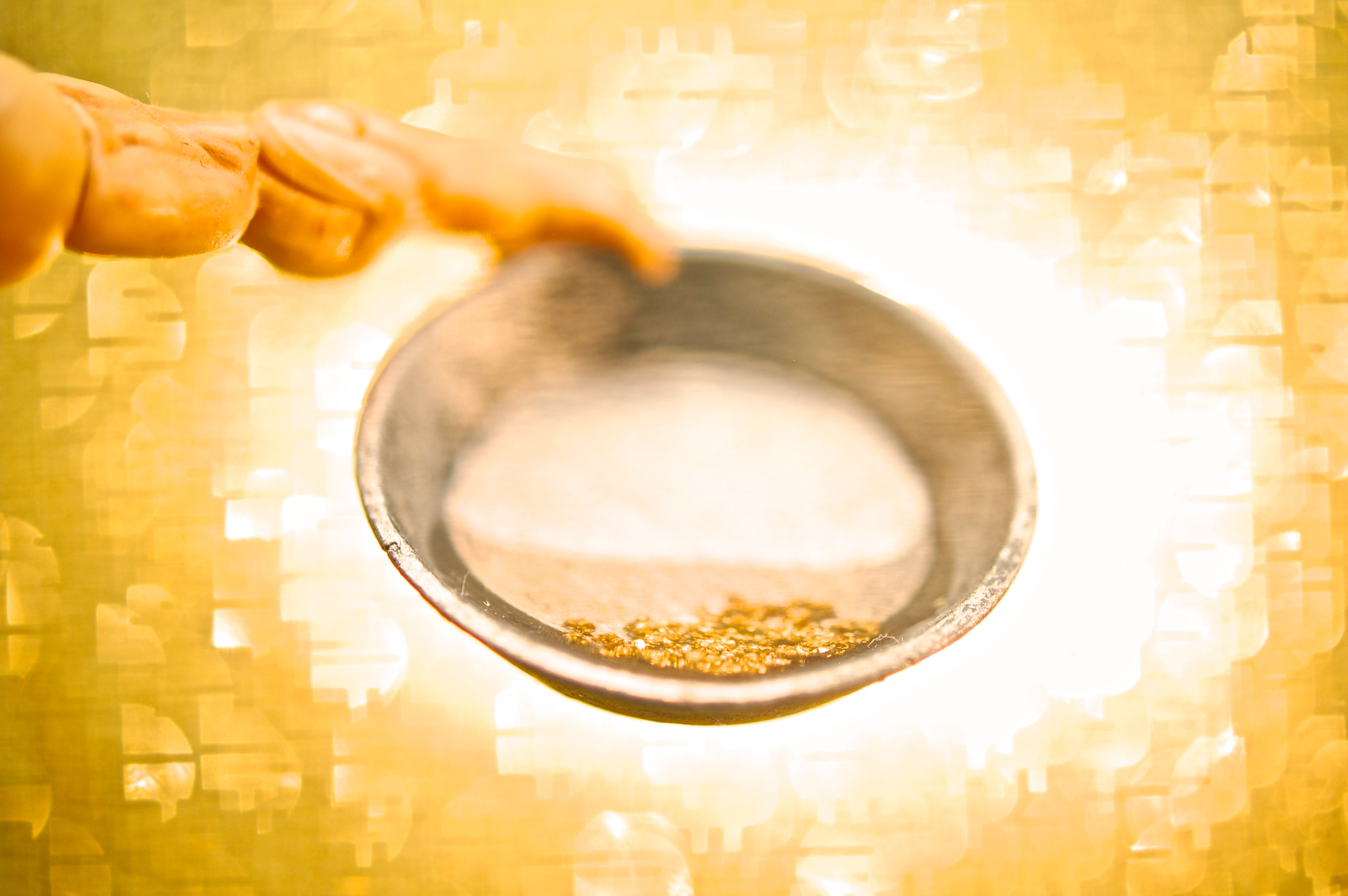 Flickr Facts
This photo was posted to Flickr on 22 July 2013. The last time I checked, it had 38,571 views on Flickr.
The media type of this image is "photo." The original file type was "jpg." The photo's dimensions are 1024 x 681, giving it landscape orientation.
Unless otherwise noted, the image was created by me, JD Hancock.